Employers - Intro
Your Employees Are the Key to Your Success
Interested in helping your employees save time and money, reduce stress, and improve their quality of life, while making your worksite more sustainable? 511NY Rideshare can help. Find out more about our commuter programs and schedule a meeting today.
Employers - Tiles
Meet our Transportation Experts
Schedule an Outreach Event
Meet our Transportation Experts
Getting started with an employee commute plan is easy. The first step is to meet with our transportation experts, who will come to your worksite, discuss your needs and objectives, and then follow up with recommendations for transportation solutions that work for you and your employees.
Offer Commuter Benefits
Why should I offer commuter benefits to my employees?
Employer-sponsored commuter benefit programs assist both employers AND employees.
Save on average 7.65% in payroll-related taxes
Employer-provided or sponsored vanpools qualify under the tax-exempt program
When you help your employees get to work with less stress and expense, you increase productivity, foster loyalty and save money.
Save up to 40% on commuting expenses
Attractive and cost-effective employee benefits
Reduced employee turnover and absenteeism
Increased employee productivity
Expanded recruiting market
Reduced traffic congestion and parking problems
Demonstration of corporate social and environmental leadership
How does it work?
Federal tax law (Section 132 [f] of the Internal Revenue Code), allows employers to offer transit passes or vanpool subsidies to employees and allows employees to set aside pretax income to pay for transit or vanpool fares. Employees may set aside up to $255 a month from their salaries before taxes to pay for transit and vanpool fares, and up to $255 per month for qualified parking expenses at or near an employer's workplace from which the employee commutes via transit or vanpool. The transit and parking benefit may be combined for a total benefit amount up to $510 per month. Transit services, publicly or privately owned or operated, and employer-provided or sponsored vanpools qualify under the tax-exempt program.
Emergency? Be Prepared
Emergency situations like severe weather, unexpected road closures, and train derailments can impact your business if your employees can't get to work. Having a backup plan can help protect your company and help you recover when an emergency strikes.

511NY Rideshare can help you create a contingency plan that covers, parking, assistance with trip planning and ridematching. We'll come to your business and work directly with your employees to help them set up a backup transportation plan for emergencies. Our ride-matching tool can help them find travel partners for carpools or find a match only during emergencies, including weather events. And our Facebook and Twitter sites provide up-to-date information whenever there are major disruptions to travel.
Run a Commute Challenge
What better way to encourage your employees to try carpooling, biking, or transit, than a little friendly competition! Don't worry, 511NY Rideshare will not only help you run the challenge, we'll offer your participating employees the chance to win either pre-loaded MetroCards or other reward cards (i.e. Amazon, Target, etc.).
Commute challenges are the most successful way to increase participation in the 511NY Rideshare program. The more participants we have, the less congestion there is on the road which means more productive employees and cleaner air for your community.
Contact us to learn more.
Schedule an Outreach Event
The next step in developing your employee commute plan is to schedule an onsite Transportation Day, where our transportation experts will come to your worksite, talk with your employees, help them register as members of 511NY Rideshare, and answer any questions and provide support. Don't have time for an on site event? We can also provide communications and marketing materials that you can use to get the word out to your employees about 511NY Rideshare. To set up an event, click here.
Setup a Telework Program
Everyone has a story to tell about a bad commute. For businesses and employees, frustrating commutes damage morale and hinder productivity. Telework can be a solution to fix your employees' commuting woes.
Gallup found that from 2012 to 2016, the number of employees working remotely rose by four percentage points, from 39% to 43%. In the last decade, telework has moved from a nice-to-have benefit to a critical component of business operations.
As a viable alternative to commuting, businesses can offer telework for eligible employees to also:
Keep operations running during emergencies
Lower real-estate costs
Enhance recruitment and retention
Reduce absenteeism
Increase staff productivity and morale
Improve work-life balance
Reduce traffic congestion and carbon footprint
Ready to get started?
Meet: Contact 511NY Rideshare to schedule a meeting with a representative.
Review: Together, we'll review and discuss your company's needs.
Identify: Our teams will help you identify ways to customize a telework plan.
Promote: We'll provide materials to help you bring employees on board.
Interested in becoming a teleworker? Contact us for best practices in telework, how to approach management, and access to other resources.
Employers - Success Stories
Employers - Newsletters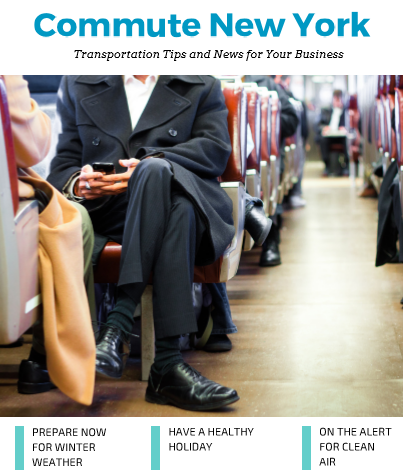 Read Our Employer Newsletter
Long Island
New York City
Employers - Photo Gallery
IMAGE GALLERY