Telework - Capital Moves
The 511NY Rideshare team is here to help. The list below provides tips to quickly implement a telework program, and our telework experts are available for assistance at
866-NY-COMMUTE
(1.866.692.6668)
or info@511NYRideshare.org. You can also live chat with an expert - just click the message icon in the bottom right corner.
Telework Tips and Best Practices
As social distancing continues to be regular practice throughout the state, employers are adjusting to continue normal business operations by enabling employees to work from home. Below are tips and best practices provided by our telework experts to get you started and maintain productivity long-term. 511NY Rideshare recognizes that not every industry is conducive to remote work. This list of tips is intended for businesses who have determined they can enable at least some employees to conduct work from home.
Telework Tips for Employers & Managers:
Organize: Depending on the size of your organization, establish a telework team or individual to decide what is needed to quickly enable a distributed workforce. 

Identify or establish collaboration tools: Immediately establish collaboration tools for use by all employees for the duration of the remote work arrangement, such as virtual meetings, file sharing apps, and instant messaging tools. If you do not already use collaboration tools, see our list of free collaboration tools below*.

Conduct a Stress Test / Trial:  If your offices have not already begun the shift to remote work, consider hosting a mandatory telework day to test your business' operations, processes, and IT systems. This will help iron out any kinks on employees having access to your network, email, and each other.

Define the working arrangement:

When can employees begin working remotely?
Which employees can work remotely, and what is the social distancing plan for those who cannot?

How often can employees begin working remotely? Telework can be full-time, part-time, or on a situational basis.

How long will the arrangement last? Try to be clear with your employees whether the situation is for a short term (1 week), or that further communication will be coming as decisions are made.

Which activities can your employees conduct remotely? There may be some activities that cannot be conducted remotely, and those activities will be suspended, priorities redirected during remote work, etc.

Define what the regular work hours will be and how employees are expected to be available.
Communicate: Talk with your team and keep them informed. Let them know what to expect while teleworking, the benefits, and what to do if they need help (if possible, provide a quick reference guide including a help desk #, VPN access, conference call lines, etc. to all employees).  Consider hosting daily check-in calls with the entire team to keep in touch and resolve any issues as a group.

Manage:  Manage teleworkers the same way as you normally do. They are performing the same work, but at a different location. 
Telework Tips for Employees & Students:
Communicate: Establish expectations with your manager. Define regular work hours, check-in times and tasks. Be transparent about any household or childcare duties that may arise as more schools and public spaces are closed.

Try to Stay Focused: There are many distractions, including news updates and closings. Establish routines and block out time for checking on news updates.
Dedicate work space: If possible, set up a secure, dedicated telework area in your home to separate work and home life. Set up a safe, secure way to lock up sensitive equipment and data. As schools close, children will be home. Dedicate a place for your child to conduct school work, too, and establish some routines.
Inventory your home technology: Check your internet speed at home by calling your provider or testing your internet speed. Most internet providers have an online speed test, or you can try free online internet speed tests. Consider upgrading to higher-speed internet access if necessary. You may qualify for upgraded internet during this time - check the "Special Offers" section below.

Stay connected: Check to see whether your company already has a remote infrastructure (example: VPN access). Forward your office phone and confirm with your employer whether you are allowed to bring home necessary files, tools, or equipment. Use collaboration tools to stay connected, such as virtual meetings, file share software, and instant messaging tools. See our list of free collaboration tools below*.

Don't sit too long: When you telework, make sure to take a break, stretch, and eat lunch. Teleworkers tend to sit at their desks for long periods of time. 
Telework Tools
Collaboration Tools:
File Sharing:
Special Offers:
*511NY Rideshare is providing this list as a courtesy during this unique time but does not endorse any single product. If you have ideas for free tools you think are missing from this list, please contact us with suggestions.
The easiest commute is the one you won't have.
Teleworking is increasingly popular with both employees and employers. At least 40 percent of American employees work from home with some frequency, with more than 4.7 million working from home at least half of the time (Global Workplace Analytics).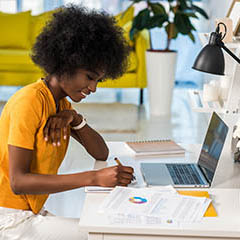 Benefits to Employers
More productive workforce
Reduced overhead costs
Larger pool of potential employees
Reduced parking demand at the worksite
Employees at work during inclement weather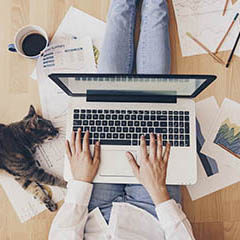 Benefits to Individuals
Convenience, flexibility and reduced stress
More productive workday
Reduced carbon footprint
Reduced gas and car expenses