Community - University of Rochester
Community
When you become a 511NY Rideshare member, you are not just gaining access to transportation resources and ridematching - you are joining a community of people working together to make the world a better place - one small choice at a time.
Refer a Friend!
Help the 511NY Rideshare community grow. Login to your account to refer a friend!
*limits apply
Commuter Spotlight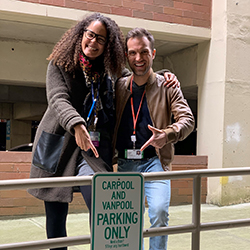 Meet Julien and Naomi, two Northwell Health employees who have been commuting together in a carpool for over a year. They save two hours per day thanks to the HOV lane on Long Island and preferred parking for carpoolers. Naomi says "It's a great way to save money and have a nice commute with great conversation."
Take It From a Member
NYC area:

"Instead of taking the subway from Astoria to Manhattan, I take the NYC ferry - it's the same price but so much more scenic!" - Elena P
"I walk over the Pulaski Bridge instead of waiting for the B32 or the G train from Greenpoint. It actually saves me time because I catch the 7 train at a spot thats closer to the city (Vernon/Jackson Ave). Plus, I get a little workout :)" - Sumiti U
"I take the NYC ferry from FiDi to the Brooklyn Navy Yard to get groceries at Wegmans which is only a 10-minute ferry ride vs a 27-minute subway ride." - Terence A.

Long Island area:

"I recently took the LIRR from Great River to Babylon instead of driving. This saved me time and money because it's difficult to find parking on Main Street, especially on the weekends." - Samantha B
Become a Clean Air NY Advocate!
In New York State, 33 percent of carbon emissions are caused by vehicle travel (
NYSDEC
). Poor air quality can affect our health and can be especially harmful to children, the elderly and people with asthma, lung damage and other respiratory conditions.