Welcome_Public
Welcome to the SUNY New Paltz Student Rideshare Portal
Connect with other SUNY New Paltz Students and share the ride!
SUNY New Paltz has partnered with 511NY Rideshare to provide free ridematching services and transportation resources to its students. We encourage you to use this portal to find information about ridesharing and other sustainable travel options. Click on the menu above for information about carpooling with other students, Park and Ride lots, transit options and road conditions.
For personalized ridematching and other services, go to the Log In section on the lower right side corner of this page. If you're already registered with 511NY Rideshare, use your registered email address and password to log back in. If you're a new registrant, click "Create Account" to set up your commuter profile. Your profile preferences will determine the information to be shared with potential rideshare partners. Once registered, you will be able to find other travelers who have similar travel routes. This system will allow you to communicate with fellow commuters.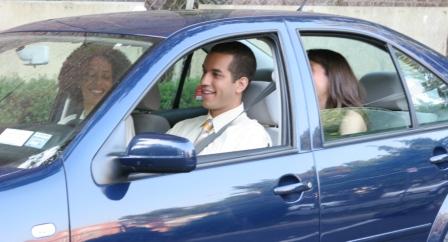 Need help? Dial 511 and say "Rideshare". Customer Service representatives are available to help Monday through Friday, from 6:00 AM to 7:00 PM. Out-of-state travelers, call 888-GO511NY (888-465-1169), select the Hudson Valley Region and then say "Rideshare".
511NY Rideshare is sponsored by the New York State Department of Transportation to provide free commuter and traveler information.
Quick match header
Find a Quick Match
Our Quick Match tool will help you find potential matches based on the Start and Destination addresses entered below.
Log in or create an account on the right to contact your matches!
Quick Match Search Portlet
Quick Match Search Results Map
No matches to show. Perform a Quick Match to show results.
Company Specific Notifications
Announcements
Click here for up to the minute traffic and transit conditions.
Follow 511NY Rideshare on Facebook and Twitter for the latest information and news on commuting and traveling in the NYC Metropolitan region and in the rest of New York.