Biking - Finger Lakes Rideshare
Biking
Bicycling is a fun, active, dependable, and affordable mode of transportation. People who ride a bicycle report improved health, reduced stress, and decreased transportation costs. Whether you want to commute by bike or enjoy a leisurely ride, 511NY Rideshare is your one-stop shop for bicycle resources across the state.
511NY Rideshare provides tools and services to help you make your walk or bike to work safe, convenient and enjoyable.
The Bike Buddy matching service, for example, can help you find a walking or biking partner. To sign up for Bike Buddy matching, simply add a trip in the "Find a Ridematch" tab and check the box "Interested in a Bike Buddy" in your "Ridematching Preferences" for the trip.
On our Transit page, use the Trip Planner Map to help plan your biking trips. Select the "Bike Only" option under Transit Options & Preferences to get started.
Biking in Central New York
The Central New York / Syracuse region includes Oswego, Onondaga, Cayuga, and Cortland counties. Find biking resources and bike share information on the regional bike page.
The Southern Central New York region includes Chenango, Delaware, Otsego, Sullivan, and Schoharie counties. Find biking resources and bike share information on the regional bike page.
Biking in Tompkins County
Whether you're biking for business or leisure, we have resources for you! Take a look at our statewide bike
maps
, or explore your area by using this
Tompkins County bike map
.
Biking in Southern Tier / Elmira Region
The Southern Tier / Elmira region includes Chemung, Steuben, Allegany, and Schuyler counties. Head over to the regional bike page to find bike share resources, bike and trail maps.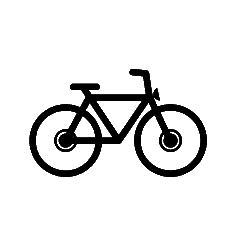 New to bicycling in New York?
Check out some helpful tips on how to get ready to ride below
Plan ahead - know which route you'll take.
Click on your region above to find bike maps for your area.
Be prepared - check the weather and bring bike lights.
Carry an additional layer or change of clothes in a backpack or on a bike rack.
A white headlight and a red taillight are mandatory when biking at night.
Make sure your bike is in good working order – do a "quick check" (like the League of American Bicyclists ABC Quick Check guide) of your bike before getting on the road.
Protect your bike - A U-lock with a cable lock is a secure way to lock your bike outside.
Learn about with the rules of the road (some laws may vary by region).
Find more resources, including local bicycling clubs, instructors, and shops here.
Log Your Trips
Want to keep track of the bike trips you take and see the progress you're making? 511NY Rideshare has a trip tracker to show you how much money you are saving and carbon emissions you are not releasing by biking. Register and start tracking today.
Bicycle Friendly Business
Is your employer interested in being recognized as a Bicycle Friendly Business? Learn more about the League of American Bicyclists and its Bicycle Friendly Business program.