Welcome_Public
Cut your commuting costs in half or more!

Share an account. Once you've found your match, register your carpool group and get an additional parking tag at no extra cost in case your partner can't make it to work one day.
Park in our preferred spaces. If you're a registered carpooler, park in conveniently located "Carpool Reserved" spots in our lots and garages.
Many fellow Buffalo Niagara Medical Campus employees have already registered – once you register you'll have access to thousands of other users.
Log in (or register if you are not yet a member) to start connecting with fellow employees!
image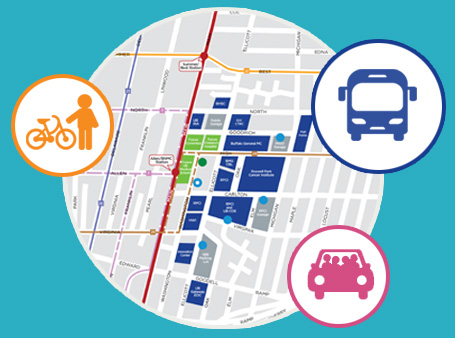 There are many transportation options available in the region. Explore your options for getting around!
Not sure how to get where you're going? Worried about traffic conditions? Try one of our many resources to find out what is the best route for you.
Quick Match Content
Find a Carpool Quick Match
Find potential carpool partners by entering your start and destination addresses below. You will be brought to your Carpool Matches page to view your match results.
Once you receive your matches, simply log in or create an account to contact them and start carpooling!