colleges who we serve
511NY Rideshare works with schools to help incoming freshman figure out the best way to get to and from campus. We work with the school faculty to analyze all available transportation options to campus and become an on-campus transportation resource for students year around.

Campus Partnerships
511NY Rideshare partners with campus transportation and sustainability organizations to help campuses reduce their carbon footprint. Our team of experts can help schools:
Implement a campuswide transportation program to make information on sustainable modes of transportation easy to access.
Launch customizable carpool widgets for students to access on the university website that matches students with carpool partners.
Connect with companies within the mobility industry to implement shuttles, vanpools and bike share programs.

511NY Rideshare for Students
511NY Rideshare is committed to helping our community of students get around– by carpooling, taking transit, biking or walking. Our priority is to help students find the safest and most efficient ways to get to campus!
Campus-only ridematching for carpools: Students can match with each other based on their home locations to commute together to campus.
Transit and transportation guidance.
Biking and walking safety tips and local resources.

Home for the Holidays: 511NY Rideshare can match students with a one-time trip to get home for the holidays.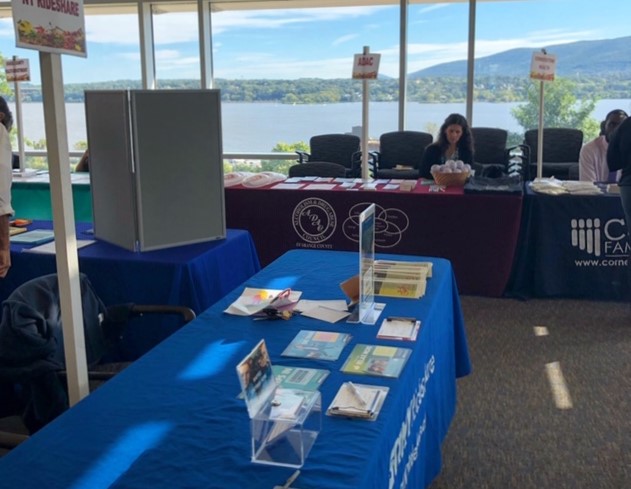 Orientations, Onsite & Virtual Events:
The 511NY Rideshare team shifted to virtual events during the COVID-19 crisis. These events are available for campus faculty and students. Virtual events can focus on new or modified commutes, maintaining productivity while distance learning, learning about bike safety and local resources, and more:
Virtual event helping students navigate biking for commuting or recreation.
Safe (masked and distanced) onsite events helping students navigate their commutes.
Co-branded resource documents to help students navigate their commute options and surrounding area.
Resources to support distance learning.
college testimonials
Take It From Our Partners

"It's a no-lose situation. We invite 511NY Rideshare to come to our orientations and to other on-campus events so our students can learn about the program. We encourage all of our students to join 511NY Rideshare because we want them to focus on learning, rather than worrying about how they're going to get to campus."
- Kathy, SUNY Farmingdale

"511NY Rideshare offers our students free information on carpooling, transit and biking. They are a great addition to our Student Activities Fairs and Earth Day Events."
- Adam, SUNY Downstate Medical School
Contact for services pages
By Live Chat: click "Chat now" in the bottom right corner to chat with one of our team members.