Do Your Part
Everyday Choices Make a Difference
Clean Air NY wants all New Yorkers to take steps to improve air quality every day. While these steps especially are important on Air Quality Action Days, making smart choices every day will bring about year-round improvements in air quality.
Here are some simple steps to achieve cleaner air:
Combine Trips. This is one of the easiest choices and can save time while you are improving the air. Instead of going home after work and then back out to the gym or to the grocery store, plan ahead and combine your errands into one trip, even on the weekends.
Bike, Walk or Use Public Transit. Forgoing your car just one day a week for a year could save about 1,000 miles on the vehicle and $500 in total driving costs. Just think of what you could do with that extra money, not to mention the health benefits of walking or biking.
Share a Ride. Whenever possible, share a ride by carpooling or vanpooling to your destination. To find a carpool partner or vanpool, visit 511NYRideshare.
Maintain Your Car. Always keep your car in tune and the tires properly inflated. A well-maintained vehicle produces 20 percent less ozone-related emissions, saves money on gas, and means less traffic congestion due to breakdowns. Properly inflated tires can save you up to 18 gallons of gas per year.
Avoid Topping Off Your Tank. When filling your car with gas, avoid topping off the tank.
Cut Back On Idling. Whenever possible, avoid idling your car. For example, go into a fast-food restaurant to pick up food rather than waiting in the drive-through lane.
Don't Be So Cool. At home, set your air conditioner at 78 degrees when it's warm outside to conserve energy.
Use Safe Products. Read product labels and be sure to purchase and use environmentally safe paints and cleaning products whenever possible. This limits the amount of unhealthy vapor in the air.
Spread the Word. The more people who know about Clean Air NY, the more steps will be taken to improve air quality and the health of all New Yorkers.
Air Quality Action Days
What Is It? What Can I Do?
Air Quality Action Days are days when air quality is predicted to be in the unhealthy range for sensitive groups. It's a day that's all about making smart choices.
So while it's a day when people can go about most of their normal activities, such as going to work, driving may be one of the most polluting activities that people do on that day.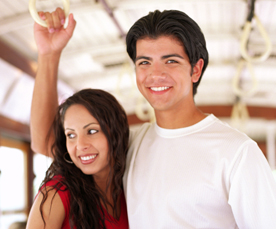 Thus, it's a day to choose to take the bus to work rather than drive.
It's a day when you can choose to go into a restaurant rather than wait at the drive-through to avoid car idling, or even to bring your lunch to work so you don't have to make an extra trip.
It's a day when you can choose not to go on the long run outside in the evening or to drive to the gym.
Air Quality Action Days typically are forecast a day prior to the actual day. We'll let you know about an upcoming Air Quality Action Day through an Action Day Bulletin. The bulletin will arrive via e-mail and will provide you with information on how to improve air quality and to avoid air pollution effects on the Action Day. Sign up for them now!
Air Quality Action Day To-Do List
Here is a list of steps to take on Air Quality Action Days.
Stay Indoors. Air Quality Action Days are a great time to stay indoors to catch up on the television programs you recorded, to play board games with your family or to finish that book you started months ago. This is especially true for people with heart and lung problems, the elderly and children who are more sensitive to air pollution.
Limit Driving. Here's your excuse for not going to the grocery store or not taking other trips. Those who must travel can still help by limiting driving and engine idling or preferably by not driving their car at all. Share a ride, use transit or work from home.
Refuel After Dark. This prevents certain pollutants from being emitted into the air that react with sunlight and heat to create ground-level ozone.
Air Condition Less. Set your home air conditioner at a slightly higher temperature than normal (you can drink cold water to cool down to compensate if it is warm outside). This will conserve energy and cut pollution.
Slow, Don't Mow. The grass can wait. While it's preferable not to have a gas-powered lawn mower at all, if you do have one, don't use it on Air Quality Action Days.
Home Improvement Procrastination. Delay use of aerosol consumer products. Painting and spraying add harmful vapors to air indoors and outdoors.