Ride Together
It's Bike Month join over a half million New Yorkers riding bikes in New York City
Create a Member Profile and match with other people biking in your neighborhood.
Select the link, enter your general info and click register. Now, you can select bike buddy matching, and adjust your radius and preferences. Run the ridematch report for results. Your bike matches are in green. You can connect through the system or directly. And remember, people register every day, feel free to check back during bicycle season for new matches.

LAGCC Bike Commuting Workshop
Bike Commute Day's - 2019
Visit us for Free bike information and giveaways
at Brooklyn College on October 22nd, East Quad 11:30-2pm
LaGuardia Community College on May 23rd, E Lobby 12-2pm
And thanks to all that participated in our Bike Commute Days last year!
About 750 people at 3 City University of New York Campuses participated in 2018.
Thanks LaGuardia Community College, Lehman College & Brooklyn College for hosting these events.


Celebrate Bike Month this May
Join the Challenge - Try biking to your job or campus this May. It's healthy and fun. Register to find a bike buddy. Then, join the National Bike Challenge, it runs May – September. You can track your success right on your phone.
Get ideas for Bike Month this May!
NYSDOT
Visit New York State Department of Transportations bicycling page for bike lanes, NYS bicycle planning and other information.
Bike Smart
Help keep New York's streets safe for everyone. Get bike safety, laws and other information from NYCDOT. Bike Smart today with Vision Zero.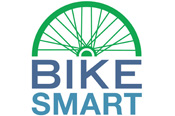 Remember to go with the flow of traffic.
Employers Bike Month Promotion
Celebrate Bike Commuting on Campus or at your Workplace!
Generate a bike commuting buzz!
Spread the word around your worksite or campus with our free NYC Bike Resources program.
Encourage employees to bike to work with a free bike event. They can find bike buddy's to ride with and easily access links and info here.
Contact us today for help planning and coordinating an educational and fun bike event at your
place of business or campus. Our team works with you to promote bike commuting, buddy riding, lane, safety resources and other bike related services.
Thinking about hosting a bike to work/college day at your business, campus or community? Check out this free Bike League Bike Month Guide to help you create your bike to work day event.